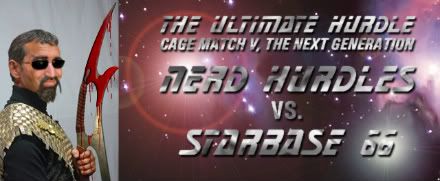 Click Kennedy's head to download the episode.
It was bound to come down to this eventually. That's right…
Episode 100!
That's a one followed by two zeroes. What better excuse to decide the question on everyone's lips: Nerd Hurdles and Starbase 66… Which podcast is the bigger hurdle?
Klingon Commander, Kennedy "Kenny G" Gordon storms the Hurdle Hut with his bat'leth to defend the Starbase's honour. Jakob and Mandi use their Kirk-Fu against him.
Three nerds enter, three nerds, uh, leave. Pretty much unscathed. The Hurdle Hut isn't exactly Thunderdome.
Listener Agustin Chancusi doesn't like the new theme song. We know he's not alone. We also know some listeners actually like it. He also doesn't like Igor and The Banana. What about you? Here's your chance to help decide the future of the show.